Madonna del Cardellino (Madonna of the Goldfinch)
by Pietro Ermini (1814, printed engraving) after Raphael (1505-1506, oil on wood)
Madonna del Cardellino portrays the Virgin Mary, Jesus Christ and John the Baptist. John – the boy on the left with the curly hair – is holding a goldfinch (representing Christ's crucifixion) which he is offering to Jesus. Jesus is close to his mother and places his foot affectionately on hers.
The three characters are shown the popular pyramidal composition, known as the Renaissance triangle. The background, a diverse natural setting that calmly frames the central subject, is typical of Raphael.
The scene is based on a medieval religious text, Meditationes Vitae Christi, which describes the Holy Family meeting St John in the desert on their way back from Egypt (a story not mentioned in the Bible). The work was directly inspired by a painting of St Veronica by Hans Memling (c.1470/75): the clothes of Mary, the composition, and the city in the background are all elements found in Memling's painting.
The original painting hangs in the Uffizi Gallery in Florence. The engraving used in Chris's artwork was printed by Pietro Ermini in Florence in 1814.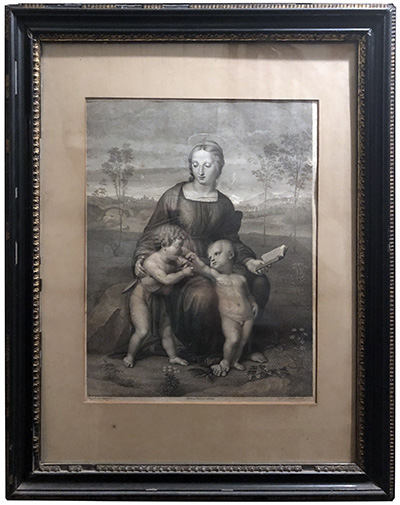 ---
Princess of Wales
by William Roffe (1863, ink on paper) after Mary Thornycroft (1863, marble)
The marble bust of Alexandra of Denmark, Princess of Wales (later queen consort of King Edward VII) was produced by the celebrated British sculptor Mary Thornycroft in 1863. It was purchased by Queen Victoria and remains in the Royal Collection.
Princess Alexandra is depicted wearing a pleated ball gown leaving her shoulders naked, looking to her left with her hair tied back behind her head. She is wearing an ancient Egyptian brooch – the 'Thebes' jewel – with cobras flanking a scarab. It was the only jewel Alexandra agreed could be shown in her portrait bust.
William Roffe's illustration was created for the popular British art magazine, The Art Journal, published by Virtue & Co.